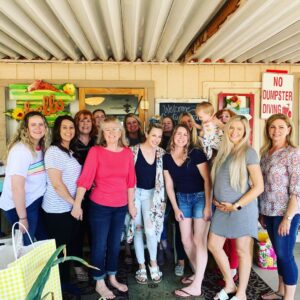 I am not even sure of the date anymore when my Aunt Margie had us all over for a gourmet lunch feast and card party. It was a couple Saturdays ago…She made over 3500 cards and then let us pick as many as we wanted. I am sorry Trader Joes….I will not need your card section for awhile. I was surrounded by the women I love and who love me. There isn't a better feeling in the world a place where you fit in. I am lucky the female spirit is alive and strong in this family, it is a beautiful thing. We walked around the farm and got a tour of a giant organic garden lovingly tended by my Uncle Jay. It fed my tired worn out spirit. I came home and put all of the cards in a shoe box. I have already given a few out for end of the year gifts at work. I love it because when I look through them..most of them are funny..but also I feel like it is Aunt Margie sending ME a little message and I just love that. I can feel her personality and sense of humor coming out through the cards.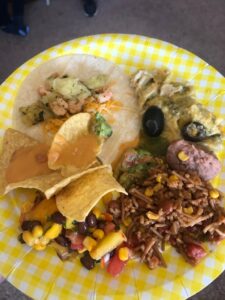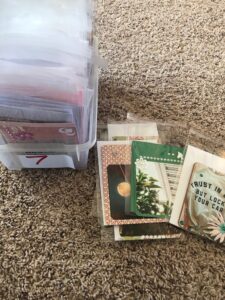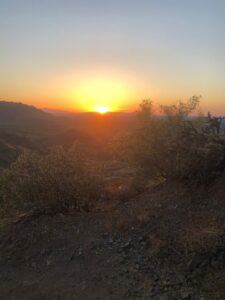 I have struggled the last six months with self care. It is my main goal for this summer. To get my health on track and to feel strong. I bought a hiking pass and have so enjoyed just getting outside and running/hiking/walking around the mountain. This is where my spirit and mind rest. I promise myself to do this more.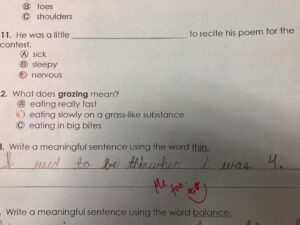 This answer to a comprehension test pretty much sums up how I feel right now.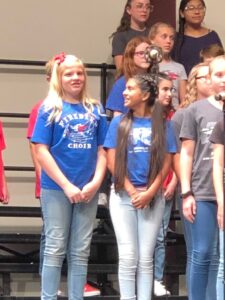 The end of an era..Ellie my youngest finished sixth grade and there were many lasts. Her last Spring sing which she had a speaking part, a solo, and played the drums. She was awesome and I was so proud of her!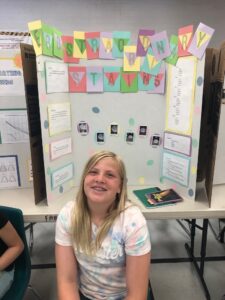 She also had her sixth grade science fair project due. She worked hard on it (Mostly herself) She did the whole experiment, observing, data collection on her own. She typed all of her work up and took pictures with her camera. She got an A on the project. (I am not going to fib it was stressful for me too)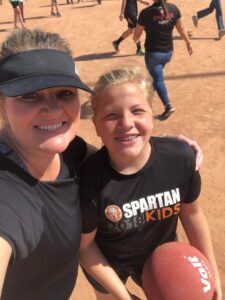 She pitched for her class in the sixth grade vs. staff kickball game and did an excellent job! Then the sixth graders had their pool party on probably the coldest May day in Arizona history. It was in the sixties! She had such a fun time with her friends and tears were shed as many will go to different Jr. High schools. She is an amazing kid.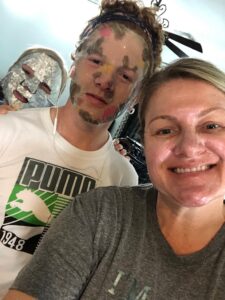 And this boy….has matured so much this Spring. He found himself in a not so great spot academically. I see all of the proud posts…my child is a honor roll student. Now that's awesome BUT when your child is failing classes and pulls those grades to all A's, B's, and a couple C's you see true grit come out. Does he get an award..no. Maybe I'll make him one because that was a hard lesson to learn and a life lesson that I am so glad he learned now. He is such a great kid.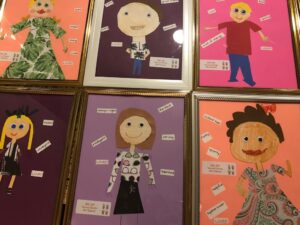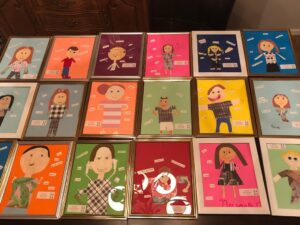 End of the year gifts for my class. They each wrote one positive adjective/compliment on each others paper. They then picked their five favorites. They made these pictures of themselves. I typed the adjectives on sticky paper and added loved (my adjective) for each of them. I cut them out and stuck them on and then framed each one as an end of year gift. I think they turned out so cute. It was SO much work but so worth it to pour some love into each of these precious children.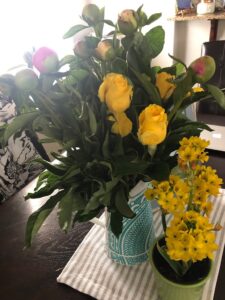 Mother's Day was stressful, like really, really stressful. The end of the year for my children with activities, projects, end of sports parties, soccer, football, end of the year in my classroom, moving and packing up my whole classroom, Mom duties, teacher duties. It took its toll. I came home yesterday from school after I had dropped the children to their Dads. I laid down on my bed with a delirious feeling..past exhaustion I had pushed past that feeling last week. I thought I will take a nap and then get up and tidy all of the school stuff that had been littered on every surface of my kitchen. I didn't wake up until 8:00 this morning. 15 hours. I think there is a reason why Mother's Day and Teacher Appreciation Week and Mental Health Awareness week all happen in MAY. May is hell, but sprinkled with fun so a twisted fun hell. I bought myself Peonies as a good job Mama/Teach for holding it together this month. Let the real fun begin.
Bring on Summer.